The Environment
River meets the sea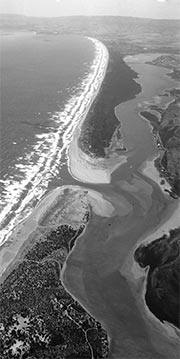 The Murray River begins its journey 2520 kilometres away in the Snowy Mountains, New South Wales. It flows down through Victoria, enters the Lower Lakes and then flows through the Murray Mouth into the Southern Ocean.
Before European settlement, this region looked very different. Flows through the Murray Mouth kept the lakes fresh, although during low flows, wind and tides could allow some sea water to enter the lower part of Lake Alexandrina.
In less than a few decades of European settlement, more water was being withdrawn from the Murray River than nature could replenish. The river's flow became too slow to flush salt water out of the lakes system. This began to affect the health of the river and surrounding wetlands.
Coorong rhythm of life
This wild coastline is a dynamic border between the land and sea. The Coorong is always on the move, being constantly shaped by waves and wind. Local plants and animals have adapted and thrived.
Early European explorers were awed with the Coorong. George French Angas (1847) described it as a 'wild and desolate place'. He appreciated the seasonal round, the plenty of spring and the measures taken to survive winters. The rhythm of life marked by the seasons was also detailed by Reuben Walker (1934) nearly a century later.
The months were marked by what was in season. In June it was swan eggs, and in midwinter, mushrooms.
Then came the fishing season in mid-August to early September as the waters began to warm. In November the lauwari or Cape Barren geese were on the saltpans when the grasses were green. In late December the muntharies or native apples were out.