Brief Coorong Region History
For many thousands of years, the lower Murray River, Lower Lakes and Coorong region was one of the most densely populated areas of Australia. These waterways were home to thousands of Ngarrindjeri Aboriginal people.
Meningie developed as a service centre for the surrounding pastoral properties. It was also a staging post on the main route to Melbourne, which included a steamer trip across Lake Alexandrina and Lake Albert.
The settlement began as an outstation of the South Australian Company, which took up country around Lake Albert for sheep and cattle in 1843. The head-station was at Bonney Well, with outstations near Point Malcolm and at Warrengie. These isolated stations depended on sailing and steam vessels for transportation and communication. The town of Meningie was surveyed in 1866 and, within a year, two accommodation houses were established.
Cargo traffic across the Lakes increased as the town and surrounding properties prospered. Paddle steamers travelled between Milang and Meningie carrying passengers, mail and supplies as well as wool and other produce of the pastoral stations. By the early twentieth century the Jupiter, the Milang and the Murray steamed up to three times a week between the two ports, as well as to Narrung and other locations.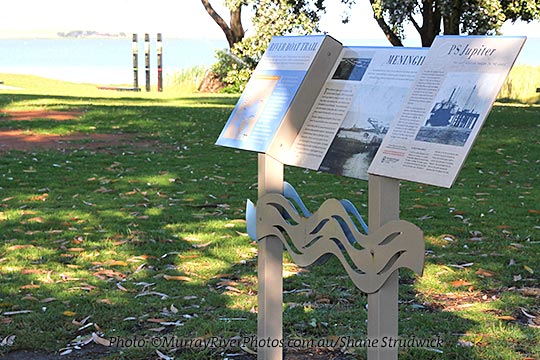 Some Local History and Stories