Meningie – gateway to Coorong Country
The Coorong town of Meningie hugs the shoreline of Lake Albert and boasts picturesque parks and picnic areas where locals and visitors can enjoy a wide range of water sports. It is a thriving community with all the essentials for you to enjoy a genuine escape and time to relax, learn and reconnect.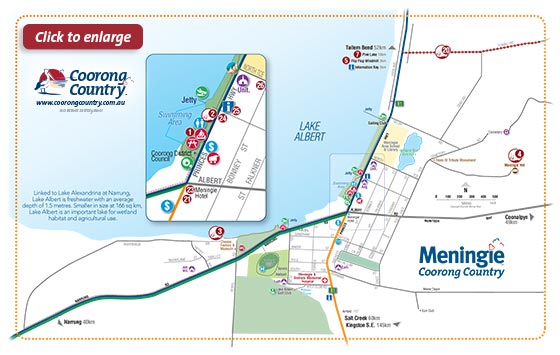 Meningie and Lake Albert
Situated at the northern end of the Coorong on the shores of the Lake Albert, Meningie combines all the charm of a small country town with stunning natural beauty of the Coorong and freshwater Lower Lakes Albert and Alexandrina of the Murray River. Soak up the peaceful atmosphere and relaxed lifestyle of this laid back waterfront town.
Stroll along the foreshore of Lake Albert and the Pelican Path…look out for the resident pelicans. Swim, fish or simply relax on the banks of the lake and take in the beautiful sunsets. Meningie boats a waterfront playground and barbecue area ideal for stretching the legs and picnics.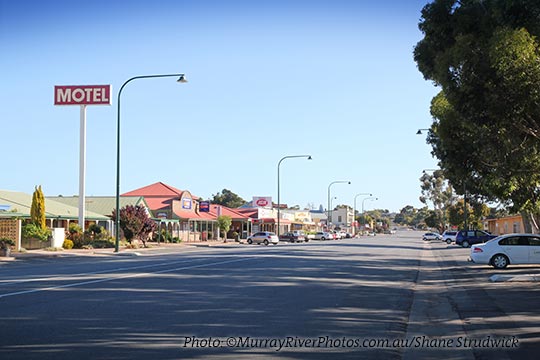 And speaking of things culinary, be sure to bring a healthy appetite. The famous Coorong Mullet is served at all the local eateries and is a must!
Lake Albert Golf Course welcomes visitors at all times to their first class 18 hole green course worthy of challenging the most ardent of player.
The Meningie Cheese Factory Museum provides a good insight into the area and its history, offering a multitude of both historical and present-day artifacts.
'The Chambers', home to Coorong Cottage industries, showcases a wide selection of arts, crafts, and home baked produce from local artisans which makes for unique souvenirs and gifts.
Blessed with a natural beauty, this charming year-round holiday destination is an easy 90 minutes drive south east of Adelaide on National Highway 1 and provides a great base from which to explore the Coorong . With a range of accommodation styles to suit all tastes and budgets its time to start planning your next visit!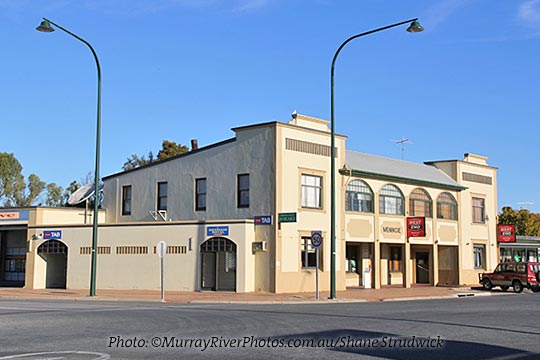 The Coorong National Park and Younghusband Peninsula encompass everything that is Coorong Country! The Coorong, which welcomes the Murray to the sea, is one of South Australia's most spectacular national parks. It's a 100 km long saltwater lagoon, separated from the Southern Ocean by dunes of the Younghusband Peninsula. The northern and southern lagoons of the Coorong join at Parnka Point, 22 km south of Meningie.
Windswept beaches pounded by the Southern Ocean, secluded lagoons and stunning sand dunes stretching more than 100km characterise the unforgettable scenery of these wetlands and coastal dune systems of international significance.
There are a number of pleasant ring route drives along the shores of Lake Albert and the Coorong. Pack a picnic lunch and set of for the day, or camp in the Coorong National Park over several days and nights (fees apply) and you'll soon discover what Coorong Country is all about!
Learn about the River Boat Trail of Meningie or drive the Coorong Birdwatcher's Trail.