Coorong National Park
Established in 1966, the Coorong National Park is a spectacular saline lagoon stretching 140km. It is separated from the Southern Ocean by sand dunes of the Younghusband Peninsula, and is internationally significant under the Ramsar agreement as a migratory wader and waterfowl refuge.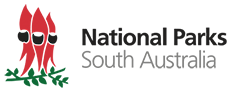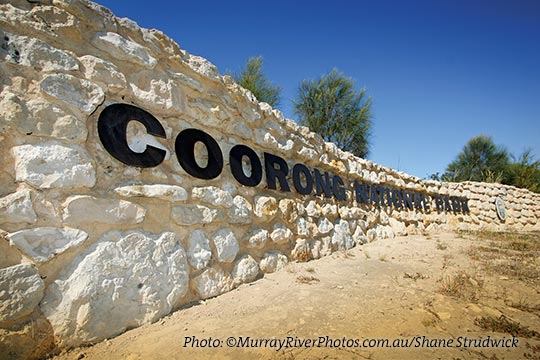 Derived from an Aboriginal word 'karangk' meaning narrow neck, it is one of the most breathtaking national parks in Australia. You will also be a guest of the Ngarrindjeri people, the traditional custodians of these lands and waters for thousands of years. It is a place of Aboriginal significance.
The Coorong is ideal for birdwatching and photography with its distinctive landscape in an important breeding area for the Australian pelican and a refuge for ducks, swans, cormorants, terns, grebes and over 230 migratory birds that travel annually from Siberia, Alaska, Japan and China.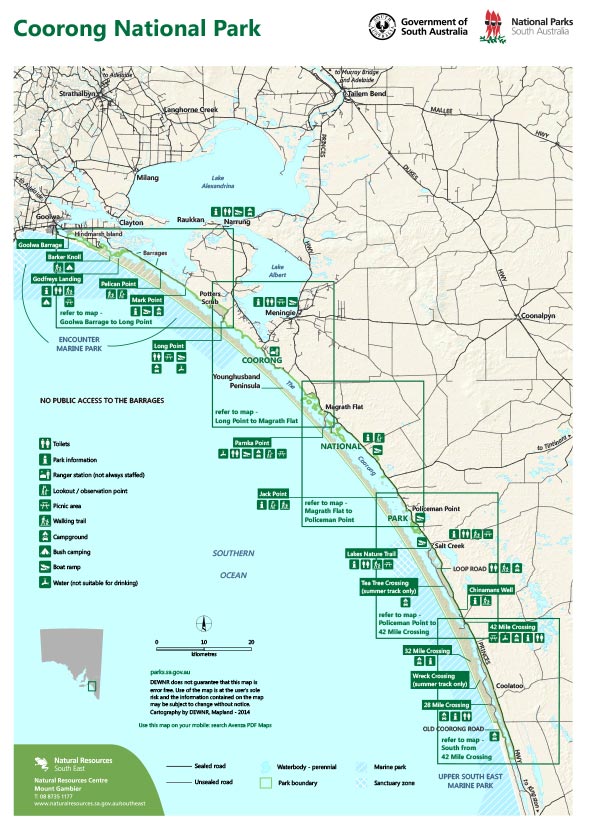 The park can be explored by the various walking trails, paddling along waterways by kayak, or 4Wdriving along designated tracks and the beach. Scenic campgrounds are located on both sides of the lagoon. A permit is needed for camping. All attractions are accessible by walking tracks, bush trails or 4WD marked tracks.
Meningie is the perfect base to spend a few days and investigate the long, narrow lagoon that runs parallel with the coastal dunes for 140km. Explore this vast wetland ecosystem that consists of ocean beach, freshwater lakes, estuaries, saline lagoon and the Murray River mouth. Feel stillness and isolation expressed in dry ephemeral salt lakes and carbonate lakes.
If you're looking for something even more relaxed head down to Salt Creek and you can base yourself in the southern part of the lagoon where you can enjoy walks, kayaking or mountainbilking.
The Coorong is a place of tranquility, solitude and wonderment. A place that calms the mind, soothes the soul and appeases the senses. Venture into a timeless, untamed wilderness and marvel at the diversity nature has provided. Windswept beaches and secluded inland bays make it truly unforgettable.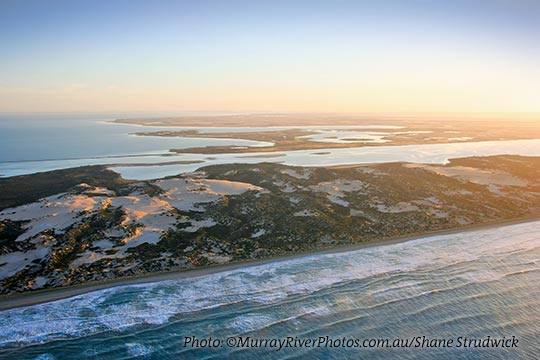 Coorong care
Protecting Coastal Dunes
There are 278 species of plants in the Coorong and the small shrubby vegetation on coastal dunes is a very fragile component of the environment. It is easily destroyed by off-road vehicles, sandboarding and removal of vegetation for firewood. This damage allows sands to shift and eventually destabilises the dunes. 'Blow outs' caused by strong onshore winds erode large swales in the dune system.
Drive With Care In Your 4WD
Some areas of the Coorong Park are accessible only by 4WD. When travelling please observe all advisory and regulatory signs indicating track closures and restrictions. Drive only on existing marked tracks.
The coastal due systems are dynamic and constantly changing – be aware of soft, shifting sands and blowouts. Adverse weather conditions such as high tides and storms may cause sections of the beach to become hazardous.
Driving On Beaches
If you drive on the beach, it is best to travel at low tide. You will find it easier to drive on sand with tyres deflated to around 105 kPa (15 psi). Please remember to reinflate your tyres prior to leaving the park. When parking, avoid shell grit beds as these can be very soft and deep. Leave your vehicle facing the ocean – this may help when you set off again. Please consider other drivers by not restricting traffic flow.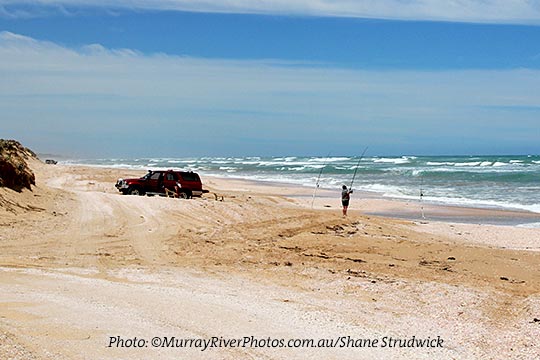 If You Get Bogged
Some basic guidelines – do not panic – further reduce the pressure in your tyres – ensure the framework of your vehicle is clear of sand – try reversing over your wheel marks – keep your wheels in a straight line – a constant steady acceleration will be more effective.
Walking Safely In The Coorong
Trails offer visitors an opportunity to delight in the many wonders of the natural world of the Coorong.
Some basic guidelines – Wear sturdy shoes, hat and sunscreen – carry sufficient drinking water – Keep to the defined walking trail and follow the markers – inform a responsible person of your proposed route and expected time of return – weather conditions can change quickly, ensure you have appropriate wet weather clothing.
The National Park Code
Help protect your national Parks:
Leave your pets at home
Take your rubbish with you
Observe fire restrictions usually 1 November to 30 April
Conserve native habitat by using liquid fuel or gas stoves
Camp only in designated areas
Respect geological or heritage sites
Keep our wildlife wild. Do not feed the wildlife, disturb animals or remove native plants
Keep to defined vehicle tracks and walking trails
Be considerate of other park users
Ancient Aboriginal Culture – Ngarrindjeri lands
Reminders of the original inhabitants of this area can be found in our coastal parks. The Aboriginal people have lived in the area for thousands of years with the sea and coastal lakes providing an abundance of food.
Heaps (middens) of discarded remains of shellfish, cooking ovens, camp sites, flaked stone debris (which are discards of the tool-making process) and burial sites are located in these parks.
Several shell types are found in the middens including turban shells, mussels, limpets, abalone and reef molluscs which indicate the sort of food eaten thousands of years ago. In the Coorong, most middens only contain the cockle.
Please remember that all Aboriginal sites are important both culturally and scientifically. Relics must not be disturbed or removed.
You may wish to experience Camp Coorong Cultural Museum, 10km south of Meningie. Phone (08) 8575 1557.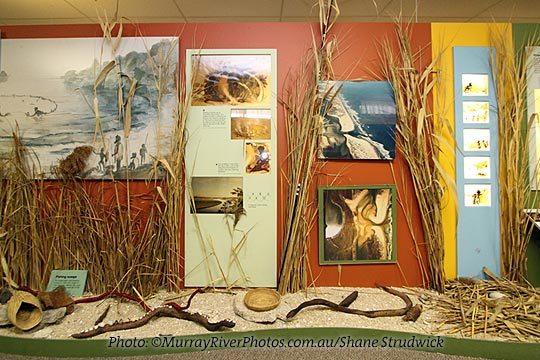 All camping sites are clearly marked and tracks into them are well-worn and quite defined. Permits are required wherever you camp and must be purchased before setting up camp. Many local businesses and Department of Environment and Natural Resources offices are able to provide you with a permit. Bookings are available online. Your camping fees help fund the provision and maintenance of facilities for park visitors.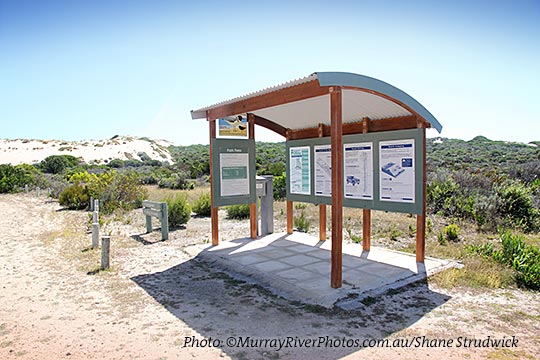 Fishing
This coast offers excellent surf fishing. The steep beaches provide good access to deep gutters along the shore where fish and marine mammals hunt for food. Please observe bag limits. Bait and tackle can be obtained from local towns and roadhouses.
Boating
The waters of the Coorong offer excellent opportunities for recreational boating. Whether cruising, sailing or canoeing, you will need to consider two separate bodies of water – the Northern Lagoon – (Goolwa Barrage to Parnka Point) and the Southern Lagoon – (Parnka Point to Salk Creek)
The water from Goolwa to Long Point allows access for boats with a draught of less than a metre. Dinghies drawing less than half a metre or canoes are best for exploring the Northern Lagoon south of Long Point and the Southern Lagoon. Parts of the Southern Lagoon dry up completely over summer.
Fires Seasons
Fire Danger Season Usually 1 November to 30 April
Check CFS hotline 1300 362 361.
Wood fires are not permitted
Non Fire Danger Season Usually 1 May to 31 October
Please note: Gas fires and stoves are permitted all year round except on days of 'Total Fire Ban'. Wood fires are allowed between high and low water mark on the ocean beach in the Coorong Park all year round except on days of 'Total Fire Ban'.
Penalties for illegally lighting a fire are very severe. Fines of up to $8000 or imprisonment for a maximum term of two years.
Coorong points of interest
Godfreys Landing
Accessible by boat from Goolwa and Hindmarsh Island, Godfreys Landing offers a fascinating walk through the sand dunes of the Younghusband Peninsula to the ocean beach near the Murray Mouth.
Pelican Point
Pelican Point offers a great vantage point to see some of the wide variety of birdlife in the park. It is also where Lake Alexandrina enters the Coorong through the Tauwitchere barrage. There is no public access to the barrage.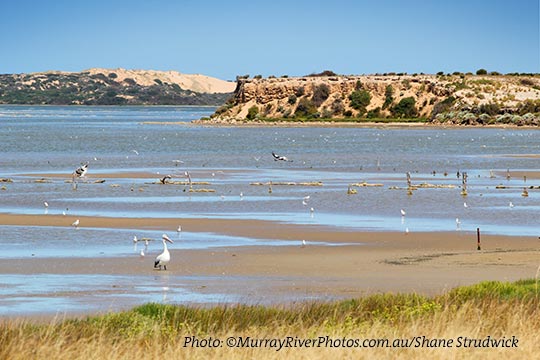 Long Point
A jetty provides visitors with easy access to their boat to explore the Coorong. Long Point is also a great fishing spot as the sun sets over the Coorong lagoon on a calm evening.
Parnka Point
Parnka Point or 'Hells Gate' is the narrowest point between the northern and southern Coorong lagoon. It is noted for excellent views up and down the lagoon, and wading birds are commonly seen fossicking in the shallow and sheltered bays nearby.
Jack Point
Home of the largest breeding colony of the Australian Pelican, Jack Point Observatory allows visitors to observe numerous birds flying back and forth to visit and breed on the nearby islands. Don't forget your binoculars!
Salt Creek
The longest walking trail in the Coorong (27km) starts at Salt Creek and extends south to the 42 Mile Crossing. This trail links four other interesting but shorter walks focusing on wildlife, scenery, sand dune systems and the early settlement of the Chinese. Designated camp sites are available along the nearby Loop Road.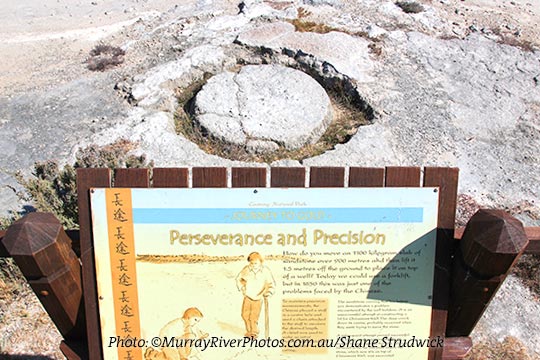 Chinamans Well
A walk around the intricate stone well, associated quarries and eating house ruins provides an insight into the history of the area when the Chinese passed through the Coorong during the gold rush era.
42 Mile Crossing
42 Mile Crossing is the closest point for 2WD vehicles to access the beach. A pleasant 20 minute walk through the sand dunes along an easily accessible walking trail from the campground rewards you with the sight and sound of the endless Southern Ocean waves rolling onto the beach. To protect the breeding site of the hooded plover, access to the beach north of Tea Tree Crossing to the Murray Mouth is closed to vehicles from 24 October to 24 December each year.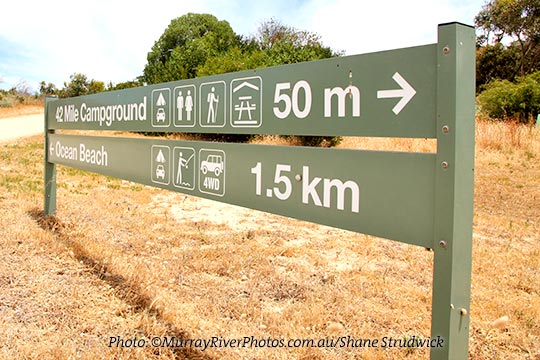 For more information visit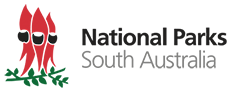 ---
Local Coorong Experiences